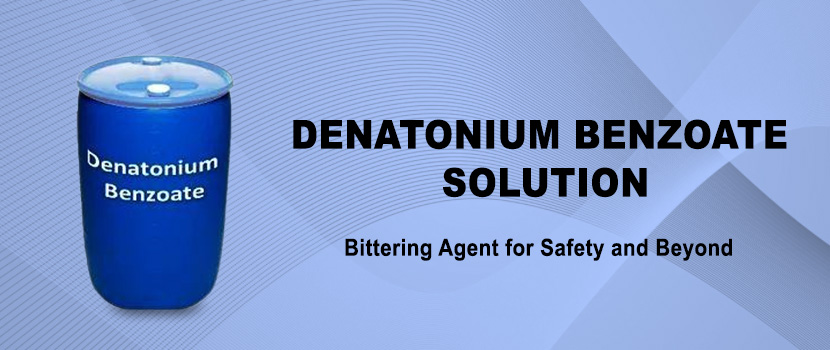 A crucial role is played by Denatonium Benzoate solution in MEG, a very bitter chemical molecule, in many different sectors. It is true especially when it comes to solutions that include monoethylene glycol (MEG). We will examine the relevance of denatonium benzoate, its many uses, and the benefits it provides.
The Influence of Resentment
Denatonium benzoate is sometimes known as "Bittrex". It is well renowned for having one of the strongest and most disagreeable tastes ever experienced by a human. Its bitterness is so strong that it is difficult to take even a tiny amount without experiencing a strong reaction.Due to this characteristic, denatonium benzoate is a very useful tool for guaranteeing safety and legal compliance.
Prevention of Ingestion
Preventing unintentional ingestion is of utmost importance in sectors such as those producing chemicals, medicines, and home goods. A potent deterrent, denatonium benzoate serves to prevent people from taking items that might be hazardous if accidentally consumed. In settings where safety is of the utmost importance, this quality is particularly important.
A Protection for Children
When consumed by youngsters, household goods including cleaning chemicals, automotive fluids, and even pharmaceuticals can be dangerous. Denatonium Benzoate solution in MEGcomes to the rescue by giving these items an undeniable bitterness. This reduces the possibility of unintentional poisonings and acts as a crucial childproofing tool.



Enhancing the Safety of Ethylene Glycol
Due to its remarkable heat transfer and antifreeze qualities, monoethylene glycol (MEG) is frequently used as a component in antifreeze. However, MEG is dangerous if consumed since it might be fatal. Denatonium benzoate is frequently added to MEG solutions to mitigate this risk.To prevent inadvertent intake, even a small quantity of denatonium benzoate makes the solution unusable.
Multiple Applications of MEG
Due to its superior heat transmission and antifreeze properties, MEG is essential in several sectors. It includes the automotive, HVAC (Heating, Ventilation, and Air Conditioning), textile, and pharmaceutical ones. It is utilised as a component in pharmaceuticals and topical applications and assists in temperature control systems.It serves as a heat exchange fluid in car engines.
Denatonium Benzoate's Function in MEG
MEG solutions become a potent deterrent to ingesting when denatonium benzoate is added to them. Denatonium benzoate is added to MEG to keep it unpleasant and preserve its key qualities. This allows it to be used safely in a variety of industrial applications.



Vehicle Antifreeze
MEG is an important ingredient in the production of antifreeze for the automobile industry. The presence of denatonium benzoate assures that this life-saving liquid will continue to taste unpleasant. This lowers the possibility of accidental intake in vehicle service and repair environments.



Systematic HVAC
The value of MEG extends to HVAC systems, where it is essential for controlling temperature. By rendering MEG solutions undesirable for ingestion, denatonium benzoate guarantees worker safety.
The defence of textile workers
MEG is frequently used in several procedures in the textile production industry. By making solutions taste unpleasant, denatonium benzoate protects workers by lowering the possibility of accidental consumption and fostering workplace safety.


Denatonium benzoate is a powerful deterrent against accidental ingestions. It protects lives and preserves the integrity of numerous products in a world where safety is of the utmost importance. The bitter legacy of denatonium benzoate will continue to protect and serve as long as safety is still put first. Its adaptability and bitter taste make it an essential component in many sectors.